Eddie's Story
It was not supposed to happen. It was not possible. T https://thepaperwriting.com/ his was a man that was larger than life, both figuratively and literally. We thought he was invincible. We thought the towers he loved so dearly were invincible. What we did not count on was the madness of modern day evil.
"With Eddie's Help", Inc. is a New Jersey Nonprofit Corporation established in honor of Edward (Eddie) T. Strauss who was lost in the tragic events of September 11, 2001.
Eddie was a courageous and generous person who spent a great deal of his https://your-writers.net/ time helping other people.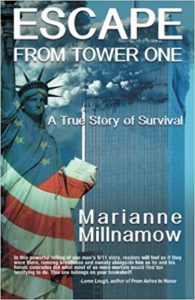 EScape from Tower One
"Escape from Tower One", the true story of Vinnie Borst, an employee of the Port Authority of NY/NJ, who survived the actions in the face of tragedy. He was a very close personal friend of Eddie Strauss. A third of the proceeds from the sale of this book will go to two funds: The Edward T. Strauss Memorial Fund to assist those with disabilities and combat homelessness, and the Aspiring Kindness Foundation, a 501(c)(3) that provides financial assistance to support and enhance the abilities of emergency responders and service providers.
To purchase this book and assist both charities, please visit: http://www.escapefromtowerone.com
Shop At Amazon!
Shop at Amazon.com! They'll donate .05% of every purchase you make when you choose our charity. Just go to Amazon.smile and start shopping. It's the same products and pricing but you'll be helping support a great cause!
August 6, 2021 – Annual Tiki Party – Martells Tiki Bar, Pt. Pleasant
In His Honor
By Dad & Theresa
Don't sit and ponder or let your mind wander
Jump into action finding satisfaction
Helping others after all, we are all brothers
As time goes by you'll realize
The good you've done by helping someone
It is not about fame and not about glory
We truly believe the best part of our story
Is doing it with pride and love in our hearts
For a man whose memory gave us our start
Guestbook
Sign our Guestbooklocated at legacy.com.
Be sure to come back to our site after you've added your entry.